Effective customer relationship management is a crucial part of the overall process of running a viable e-commerce business. 
Here, e-commerce CRM software can significantly assist your business in organizing plenty of internal data as well as customer information to boost the CSAT rate. In addition to this, CRM software also improves collaboration among employees. 
As a result, your e-commerce business would be able to deliver enhanced customer service. 
Service CRM software can help your e-commerce business in developing a better understanding of customer needs, retaining existing customers, attracting new customers, and decreasing customer management costs.
Must-have CRM Essentials for your Ecommerce Business
Today's consumers are very much aware of the advanced state of e-commerce technologies, and they expect their favorite e-commerce platform to utilize them. For example, consumers are eager to know their order updates right after placing any order. Also, shoppers expect to know the stock availability of a particular order or how many people have brought a respective item in the past few days.
Here, CRM coordinates with e-commerce businesses to make all these things happen easily. This eventually results in a smoother and more efficient customer experience.
Let's discuss some of the CRM essentials for your e-commerce business.
Basic CRM Essentials
1. Information Access
The main feature of an adequate CRM is to provide you with complete access to information. Your e-commerce CRM software must be able to give an overall view of customers' data. So that you can easily refer to every customer interaction, from customer support tickets to product purchases to a website inquiry.
It ensures that every team of the company has access to the same version of customer details. 
The vital information extracted from any customer interaction can help customer support agents in framing a proper plan of action for consumers.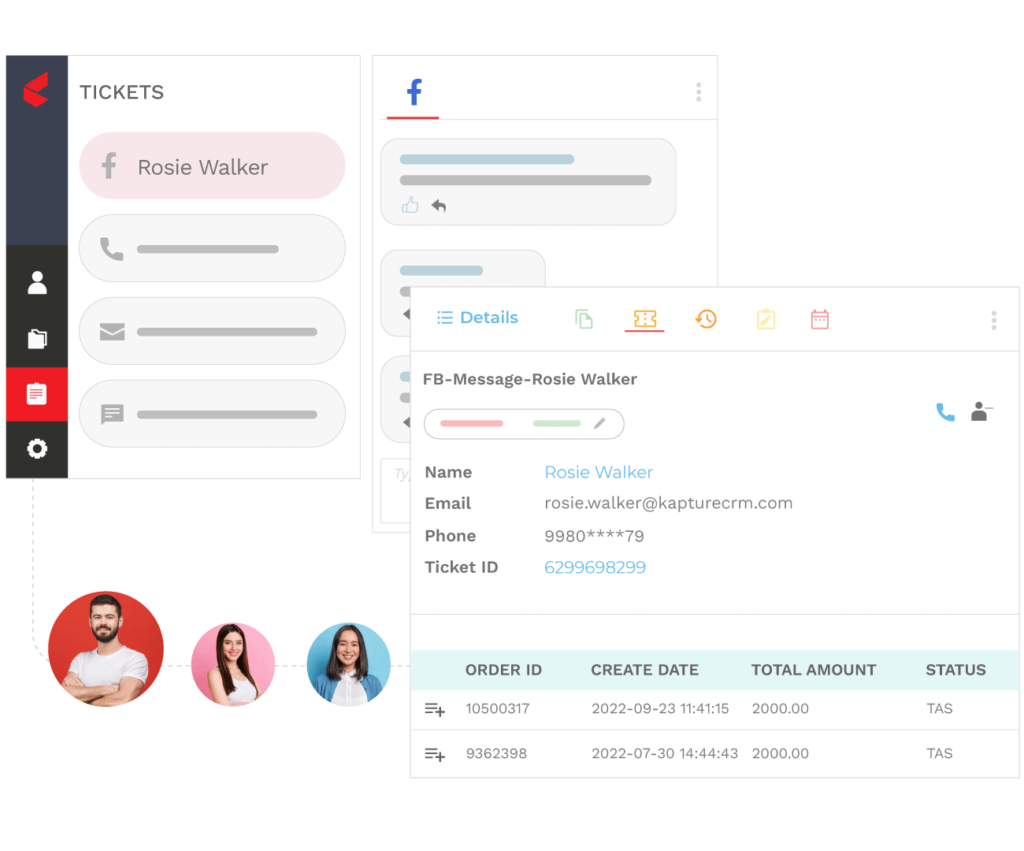 2. All-in-One Inbox
A CRM's All-in-One Inbox solution enables your customer support agents and team to respond to a customer query on various platforms such as calls, SMS, email, or social media platforms from a single source.
This effective omnichannel strategy unites teams that are located at geographically separated branches of the company on a single platform.
This CRM feature allows multiple departments of an organization to work together in a streamlined manner, ultimately saving time and effort for agents.
3. Customer Segmentation
The customer segmentation feature allows e-commerce businesses to segment their audience in order to create specific segments that consist of certain messages to suit a particular audience profile. 
It also allows e-commerce businesses to increase their reach among the target audience.
An e-commerce business can utilize customer segmentation to deliver successful business strategies in order to meet the required business objectives.
4. Live Chat
In the current scenario, every business website comes with a live chat option. It enables website visitors to chat with customer support agents in real-time. But, a live chat can do many wonders when integrated with a CRM.
Integrating the Live Chat with an e-commerce CRM can help those companies in managing and storing customer data that their agents had been chatting with on the website.
It recognizes regular customers and helps in building their customer profile. Additionally, it saves a lot of time by automating the information storing process.
5. Mobile App
Mobile Apps have created a milestone after entering the market. They have become a fundamental part of many businesses and e-commerce is one of them.
By leveraging a CRM-integrated mobile app, e-commerce businesses can empower their agents with up-to-date information readily available at their fingertips. It allows them to assist customers from anywhere, eventually increasing their First Call Resolution and decreasing the Average Handling Time. 
6. Dynamic Reports
An effective CRM not only tracks customer data but can also save a plethora of time by analyzing the business productivity. 
Choosing the right CRM can offer you better and more personalized reporting filters than others. 
The CRM's custom reporting filters let the e-commerce business easily find the market insights, and financial forecasts, and filter other business data through a wide range of customizable reporting filters.
7. Order Management
Any CRM must support the order management cycle that directly results in an effective customer satisfaction rate. Therefore, e-commerce businesses should seriously look for this feature before choosing CRM software.
The CRM system should essentially provide complete information related to every product and its order history in the order management system. 
An efficient order processing system offers convenience in the purchase method, order tracking, review and easy billing, timely delivery, and quick return policy.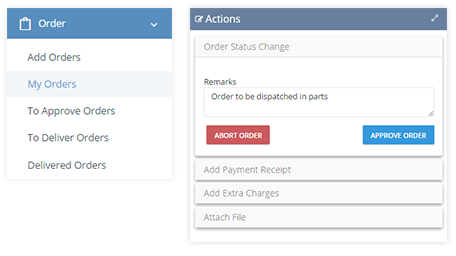 8. Key Data Management
Data management teams are usually responsible for recording and keeping track of customer information. This includes analysis of the collected information and sending updates to clients and other customer-centric departments.
According to the Harvard Business Review, customer satisfaction increases by 20% within a few years of implementing a key account management program. – source
A smart e-commerce CRM software allows account managers to have a single view of customers in just a few clicks. All the business interactions such as forms submitted, emails opened, or recent downloads from your website can be viewed and analyzed.
With quick and easy access to all these touchpoints, account managers can get key insights that are important for the growth of your e-commerce business. 
9. Basic CRM Integrations
An e-commerce CRM software can be integrated with emails, and social media platforms in a simple and effective way to add customer records from the CRM to get a better idea of how customers are interacting with your website, landing pages, or social media posts.
In addition to this, CRM can also be integrated with calendars to enable employees of e-commerce organizations to plan their daily activities effectively without the need to switch between multiple platforms.
Advanced CRM Essentials
1. Ticket Filtration
An e-commerce CRM with a ticket filtration feature can aid the customer support agents of e-commerce businesses in the ticket queue management process. 
The ticket filtration feature automatically tags and prioritizes tickets according to the keywords used by the customers while raising a ticket. These tickets are placed in different folders as per the query type, making it convenient for the agents to resolve them accordingly.
The automated ticket allocation feature filters the tickets and assigns them to agents' as per their skill sets, to solve customer queries in one go. 
This formulated strategy of ticket allocation results in higher productivity and increased efficiency of agents and also helps the business in the long run.
2. Automated Ticket Assignment
The automated ticket assignment feature allocates the filtered tickets and assigns them to agents' as per their skill sets, to solve customer queries in one go. 
This formulated strategy of ticket allocation results in higher productivity and increased efficiency of agents, and also helps the business in the long run.
3. Workflow Automation
E-commerce businesses can simplify repetitive tasks and remove redundancies by automating their workflow through a CRM system.
By automating the workflow, e-commerce businesses can automate email writing, sending follow-up emails, appointment scheduling, creating report metrics, and many more.
It also helps in achieving immediate milestones such as increased Net Promoter Score (NPS). For example, e-commerce businesses can ask feedback questions to the customers like – On a scale of 0-10, How likely are you to recommend us to your friends?
E-commerce businesses that are using CRM software to offer sustenance of qualitative services have experienced a higher NPS.
3. Advanced CRM Integrations
The advanced integration allows seamless integration between your e-commerce CRM software and other essential business applications such as online payment gateways, logistics partners, ERPs, or any other APIs. 
With advanced CRM integrations, support agents gain access to perform all the tasks related to a ticket resolution from within the CRM interface.
4. Knowledge Management
Creating and sharing business-related information is a crucial part of any organization. Organizing every bit of information such as customer-related data to product-related details can be a challenging and time-consuming task for customer support agents.
With appropriate CRM features, e-commerce companies can empower their agents to easily access this information for effective customer service.
This is where the Knowledge Management System or, KMS proves to be an important CRM tool for businesses around the world. It is an extremely helpful tool that centralizes all the databases required to resolve customer queries and is made easily accessible to agents that promotes faster ticket resolution and decreases average handling time of agents.
5. Learning Management
With an integrated Learning Management System, or LMS – CRM software, e-commerce companies can easily monitor the progress of their customer support agents or any other team members. 
The LMS integration offers a detailed view of agents' learning status, tracking their learning progress, and their work performance, all of which are vital data to enhance the workforce while understanding the basic reasons of issues and knowledge gaps within an organization.
6. Self- Service
E-commerce businesses can set up a self-service portal with the help of a smart CRM to build an agent-independent customer service experience. 
It enables customers to solve common queries by themselves instead of depending on direct engagement with a customer care agent, eventually providing help to several customers at the same time.
For example, FAQs and their answers developed from repeated queries can help customers in finding relevant information without any agent assistance. Chatbots integrated with social media platforms or websites can easily replicate human assistance at a higher level and increase customer service effectively.
Why do you need customized e-commerce CRM Software for your business?
A customized e-commerce CRM software can collect customer data by integrating with your existing system like your e-commerce website. It also helps in tracking customer browsing history to provide a 360-degree view of customers. 
An effective e-commerce CRM software has the ability to analyze your website's metrics, such as:
Customer click-through rate

Conversion rate

Most-purchased products by customers

Subscription opt-ins
Benefits of E-Commerce CRM Software
In the past couple of years, CRM software has proved to be a huge driving force for e-commerce businesses. It has enabled e-commerce companies to derive a better understanding of customer needs in order to provide enhanced customer service and increase their customer retention.
Mentioned below are a few benefits of e-commerce CRM software :
Better customer experience

Increased efficiency

Customer segmentation

Automated report generation

Time-saving

Customer retention
Kapture: The One-Stop CRM Solution For Your E-Commerce Business
Many platforms have started adopting CRM but not every CRM can offer an effective result and convenience for your customers. Choosing the right CRM comes down to understanding its features and how it can relate to your unique business model. 
It is crucial for your business objectives to be more customer-centric in order to build a strong bond with your customers. 
Understanding their needs and offering them customized services is the best way to delight your customers and improve their customer experience.
So link up with Kapture, an automated help desk ticketing platform, to tune up your CRM and improve your customer retention strategies with its intelligent tools and solutions. 
About the Author

Shivika
Shivika is a Content Writer at Kapture CRM, who enjoys using her creative skills to contribute to the exciting technological advances. She is passionate about cultural artifacts and culinary art.