With over 2 billion monthly active users, Whatsapp has become the most popular global mobile messenger app across the world. In addition to interacting with friends and family, users are also increasingly choosing WhatsApp to reach out to businesses and have their issues and queries resolved. 
Customers are expecting businesses to communicate with them on channels that they regularly use and prefer. They expect instant responses and faster ticket resolutions with minimum wait time. 
According to an industry survey, 63% of respondents confirmed that they prefer companies that offer text messaging as a communication channel.
So as a scaling organization, how can you meet your customers' expectations and leverage the current technology to serve them better?
Deploying a CRM with Whatsapp integration can help businesses leverage more benefits. Let's find out how.
Types of WhatsApp Business Accounts
The vast reach of Whatsapp encouraged companies to use it as a business tool to reach out to customers. However, there were certain issues that businesses kept bumping into. A few of those issues were;
Difficulty in getting an overview of customer details

Inability to respond to multiple customers at the same time from a single account

Limited option for businesses to highlight their catalog

No templates to send to multiple customers in one shot

Unable to search for archived contacts and messages
This triggered Facebook (which bought Whatsapp in 2014 for $19 billion) to make 2 Whatsapp products, especially for businesses: Whatsapp Business App and Whatsapp Business API.
A Whatsapp Business App account is more fruitful for small businesses that receive low-volume customer queries, and require less number of agents to resolve the tickets. Though it addressed most of the above-mentioned problems, it was still a challenge to growing businesses where the volume of messages they receive from customers was huge.
Growing businesses needed a Whatsapp version that can be used by multiple users on multiple devices for quick resolution of queries. This main challenge was addressed by Whatsapp Business API.
However, the API did not come with an official app and demanded a robust interface for a better experience and to cover business use cases. That's when the CRM system came into the frame.
Types of Whatsapp Business Accounts
What is WhatsApp CRM Integration?
Whatsapp CRM integration allows you to send Whatsapp messages to your customers and prospects directly through your CRM system.  
The integration ensures two-way communication with your customers, where you can share various types of multimedia attachments with your customers to address their concerns and resolve queries quickly.
It decreases your agents' average handling time and allows them to work more efficiently, eventually leading to better customer service, increased customer retention, and ultimately the growth of your business.
How to Integrate CRM with WhatsApp?
Any CRM with a Whatsapp integration tool consolidates your customer relationship efforts into a single channel for an effective workflow. Furthermore, it also helps in achieving higher customer retention rates. 
You can follow these easy steps to integrate Whatsapp with your CRM account.
Step 1: Choose Kapture to experience seamless Whatsapp integration. 
Step 2: Get a Whatsapp API account. If you are already using a Whatsapp business account, you need to upgrade it to an API account.
Step 3: Kapture can integrate with your existing Whatsapp number. You do not need to change your number for an API account. 
Step 4: After integration, generate a workflow for incoming Whatsapp messages.
Step 5: View all incoming and outgoing Whatsapp messages on a unified dashboard.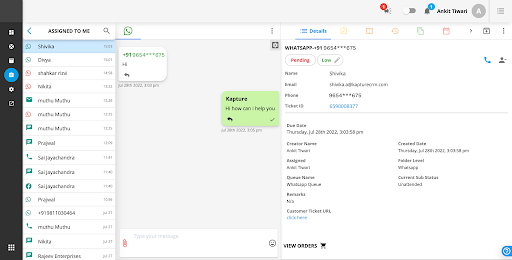 Benefits of WhatsApp CRM Integration
There are multiple ways through which this powerful integration can uplift your business. Here are a few quick ways.
Seamless Communication
CRM and Whatsapp integration enables you to communicate directly with your customers. It also allows you to access all your conversations in one place. Here, the chats can be responded to quickly by multiple agents, and conversations can be assigned to relevant agents based on their expertise.
Pre-Set Message Templates
Pre-set message templates are a great way to send customized messages to customers. You can use templates such as booking confirmations or product updates and send them to an individual or a larger audience easily.
Broadcast Messages
This feature will allow you to send a message or media to several contacts at once, but it will appear to be an individual message from you. You can simply choose the recipients from your contact list and compose a message to send as a broadcast. Alternatively, you can also choose one from previously saved templates.
Scheduled Messages
As the name suggests, you can use this feature to schedule your messages in advance so that you do not miss out on sending important messages to your customers on time. You can easily schedule your messages based on any upcoming event or promotion.
Helpdesk Functionality
The better the help desk functionality is, the more the chances of making a customer happy. This also helps in increasing the customer retention rate. 
With Whatsapp CRM integration, you can create tickets based on customer conversations, send notifications, and collect feedback effortlessly.
Access Customer Details
Empower your agents to serve your customers better by providing them with access to all the customer data that is required. For instance, an agent speaking to a customer on WhatsApp through Kapture CRM can view the past tickets, communication history, and contact information on the same dashboard. It will save an agent's time and will result in faster query resolution.
Whatsapp Message Alerts
You can configure your CRM solution to have a dedicated WhatsApp notification panel that alerts customer support agents every time a customer reaches out with a WhatsApp text message.
Instant and Real-Time Conversations
With multi-channel integration, you can instantly handle the vast number of messages. Furthermore, you can also manage conversations on WhatsApp and reduce customer waiting time by taking advantage of pre-formatted auto-replies that are quick and personalized. This will help you to keep up with the expectations of your customers.
Ticket Generation
Every time a customer reaches out with an issue or a query on WhatsApp, a ticket is automatically created within your CRM. These tickets are organized and can be viewed and accessed under the "WhatsApp" section in ticket sources. After resolving a customer's query, agents can easily close the ticket then and there.
Effective Team Collaboration
With Whatsapp CRM integration, you can involve your team members to enable a collaborative business process. You can notify and assign the conversation to your team members when you need them. 
It also allows you to add closing notes to let the other team members know feedback about the conversation.
Things to Know Before Opting for Whatsapp CRM Integration
To make the integration process easy, you just need to be well aware of certain conditions;
An API account is entirely different from a personal or business account. Organizations can connect their API account with Whatsapp CRM. Unlike the business account, an API account supports an unlimited number of users and devices.
Sending messages to customers is only possible if the other person has agreed to opt in. Therefore, Whatsapp API always asks for this opt-in permission from the customer. So, make sure you are familiar with this condition before integrating your CRM with this messaging app.
The key aspects of Whatsapp data privacy regulation are mentioned in this segment. And, non-adherence to any of these policies can lead to penalties. In this section you,
Cannot share customer details with others

Cannot request for financial, personal, or health-related information

Should take complete responsibility for collecting and using customer data

Can use the collected data only for customer support purposes
Kapture CRM – Whatsapp Integration
Whatsapp CRM integration is a great way to improve your company's customer service efforts. 
Kapture offers a holistic view of your customers where you can directly respond to queries from a unified platform. 
Here, you can route, tag, and prioritize tickets easily according to the keywords used by customers in chat. Analyze all the queries coming through Whatsapp and formulate ways to reduce your ticket volume with the help of insightful reports. 
This is just a peek into our Whatsapp integration. Interested to know more?
Get in touch with our product squad at Kapture and find out how our support automation platform can transform your customer service processes.
About the Author

Shivika
Shivika is a Content Writer at Kapture CRM, who enjoys using her creative skills to contribute to the exciting technological advances. She is passionate about cultural artifacts and culinary art.